Litterbug Website: https://litterbug.cam/
Github: https://github.com/SBIRLitterBug
Litterbug.Cam is making use of the EoT board to do low power detection of littering (Unattended Luggage) and then to sound an audio-warning.
A key element of this product is that it must be battery powered so that it is easy and cheap for local councils to deploy. There is where the EoT board shows great promise.
Early results from the algorithm are showing detection accuracy with <5% false negatives and less than 2% false positives.
Sample #1 showing successful detection (RED BOX = DETECTION)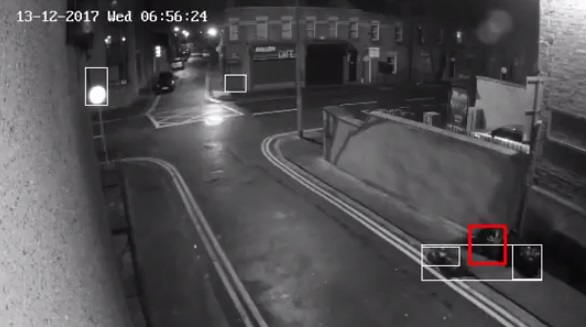 FYI: White boxes are "candidate events" that do not trigger an alert.
LitterBug, Dublin smart city project scene- Night time scene 1
https://www.youtube.com/watch?v=_fW4-qZHajw&feature=youtu.be&t=32s
More Sample Videos:
https://www.youtube.com/channel/UCpWqNhe_wZYdz1eOaLoIXHw/videos?disable_polymer=1
https://www.youtube.com/watch?v=_fW4-qZHajw
https://www.youtube.com/watch?v=G-smnWfDLfY
https://www.youtube.com/watch?v=17k4wWv4LUQ
https://www.youtube.com/watch?v=deVnmFse7so
https://www.youtube.com/watch?v=Gmeq625onOk&feature=youtu.be